eso2216 — Tlačová správa (vedecká)
Najvzdialenejšia čierna diera pohlcujúca hviezdu
30. november 2022
Začiatkom tohto roka bol personál VLT (Very Large Telescope) Európskeho južného observatória upozornený na to, že ďalekohľad na prieskum oblohy zaznamenal nezvyčajný záblesk svetla. VLT bol spolu s ďalšími ďalekohľadmi okamžite otočený smerom k zdroju – zdrojom javu bola supermasívna čierna diera v strede vzdialenej galaxie, ktorá práve pohltila hviezdu a vyvrhla pozostatky vo forme hmotných lúčov. Na základe meraní z VLT astronómovia určili, že ide o najvzdialenejšiu takúto udalosť, aká bola kedy zaznamenaná. Keďže vyvrhnutý prúd hmoty smeruje takmer presne k nám, vedci po prvýkrát mohli pozorovať takýto jav v oblasti viditeľného svetla, čo znamená novú príležitosť na pozorovanie týchto výnimočných udalostí.
Ak sa hviezda náhodou dostane do blízkosti čiernej diery, neuveriteľne silné slapové sily ju roztrhajú. Astronómovia nazývajú túto udalosť prílivovou udalosťou (TDE). Zhruba raz, za sto takýchto udalostí, sú sprevádzané aj objavením sa výronov materiálu a výtryskov vychádzajúcich z pólov rotujúcej čiernej diery, sprevádzaných elektromagnetickým žiarením. Toto sú prúdové TDE. Na možnosť takýchto javov upozornil v roku 1971 jeden z priekopníkov výskumu čiernych dier John Wheeler [1]. Podľa Wheelerovho živého popisu je to "ako tuba zubnej pasty vytlačená v strede, z ktorej na oboch koncoch vystrekuje materiál".
"Zatiaľ sme videli len niekoľko tryskových TDE, takže ide o extrémne zriedkavé a málo známe javy," predstavuje nám Nial Tanvir, kolega z University of Leicester v Spojenom kráľovstve, pod vedením ktorého vedci určovali vzdialenosť študovanej čiernej diery na základe meraní VLT. Astronómovia neustále pátrajú po podobných mimoriadnych udalostiach, aby zistili ako tieto výtrysky hmoty vznikajú a prečo vznikajú tak zriedkavo počas prílivových katastrof.
V rámci výskumných prác viaceré teleskopy, vrátane teleskopu Zwicky Transient Facility (ZTF) v Spojených štátoch amerických, neustále skenujú oblohu pri hľadaní krátkych, často extrémne silných zábleskov. Ak niečo takéto nájdu, môžu to potom oveľa intenzívnejšie študovať s pomocou väčších teleskopov, vrátane čilského ESO VLT. "Vyvinuli sme si rutinu na spracovanie údajov s otvoreným zdrojom, ktorá skenuje pozorovania ZTF a okamžite nás upozorní na to, keď zistí nezvyčajnú udalosť, ktorá vyzerá zaujímavo," vysvetľuje Igor Andreoni, astronóm z University of Maryland v USA, ktorý viedol výskum spolu s Michaelom Coughlinom z University of Minnesota, o výsledkoch ktorého informuje výskumná skupina v štúdii, ktorú dnes zverejnil časopis Nature.
Vo februári tohto roku ZTF zachytil záblesk v oblasti viditeľného svetla. Udalosť AT2022cmc pripomínala gama záblesk. Vytvárajú záblesky svetla s najvyššou energiou pozorovateľnou vo vesmíre. Možnosť pozorovania tohto vzácneho nebeského úkazu povzbudila mnohých astronómov na celom svete, aby pomocou svojich teleskopov podrobnejšie preskúmali tento záhadný svetelný zdroj. Medzi zalarmovanými ďalekohľadmi bol aj ESO VLT, ktorého prístroj X-shooter tento jav zaznamenal. Údaje ukázali, že táto udalosť sa stala v extrémne veľkej vzdialenosti od nás. AT2022cmc zablikalo vtedy, keď bol vesmír len o tretinu starší ako je dnes.
Pomocou 21 ďalekohľadov po celom svete odborníci zachytili široké spektrum elektromagnetického žiarenia z tohto cieľa, od vysokoenergetických gama lúčov až po rádiové vlny. Zozbierané údaje potom astronómovia porovnali so signálmi z rôznych známych udalostí, od kolabujúcich jadier až po kilonovy. Údaje však bolo možné uspokojivo vysvetliť, iba zriedkavo sa vyskytujúcim fenoménom jet-TDE. Giorgos Leloudas, zamestnanec dánskeho vesmírneho inštitútu DTU a jeden zo spoluautorov štúdie, to vyjadril takto: "Keďže relativistický materiálový lúč smeruje k nám, udalosť sa javí ešte jasnejšia, než by sa inak zdala. možno ho pozorovať aj v širšom rozsahu elektromagnetických vlnových dĺžok."
Merania VLT ukázali, že AT2022cmc je najvzdialenejší jet-TDE, aký bol kedy pozorovaný. Navyše nejde o jediný mimoriadny rekord súvisiaci s týmto fenoménom. "Niekoľko predtým pozorovaných tryskových TDE bolo objavených pomocou gama aj röntgenových ďalekohľadov. Toto je prvé, čo sme zaznamenali v optickom dosahu," podčiarkuje, Daniel Perley, astronóm z Univerzity Johna Mooresa v Liverpoole, ktorý je aj spoluautorom štúdie. Otvára sa tak nová príležitosť na detekciu takýchto javov, takže môžeme očakávať, že objavíme ešte nezvyčajnejšie prílivové katastrofy sprevádzané vyvrhovaním materiálu a vďaka nim lepšie pochopíme mimoriadne podmienky v okolí čiernych dier.
Poznámky
[1] Johnovi Archibaldovi Wheelerovi sa často pripisuje aj to, že v prejave z roku 1967 pre NASA vytvoril termín "čierna diera".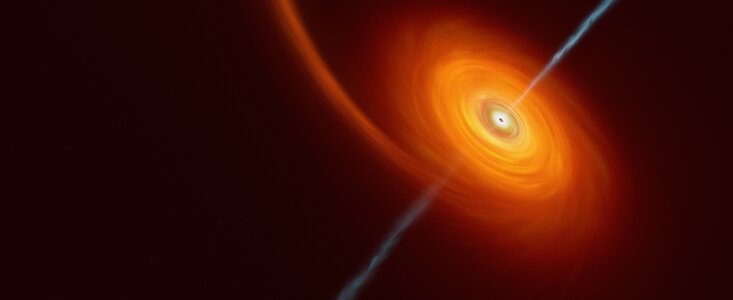 ——————-
More information
This research was presented in a paper titled "A very luminous jet from the disruption of a star by a massive black hole" to appear in Nature (doi: 10.1038/s41586-022-05465-8)
The team is composed of Igor Andreoni (Joint Space-Science Institute, University of Maryland, USA [JSI/UMD]; Department of Astronomy, University of Maryland, USA [UMD]; Astrophysics Science Division, NASA Goddard Space Flight Center [NASA/GSFC], USA), Michael W. Coughlin (School of Physics and Astronomy, University of Minnesota, USA), Daniel A. Perley (Astrophysics Research Institute, Liverpool John Moores University, UK), Yuhan Yao (Division of Physics, Mathematics and Astronomy, California Institute of Technology, USA [Caltech]), Wenbin Lu (Department of Astrophysical Sciences, Princeton University, USA), S. Bradley Cenko (JSI/UMD; NASA/GSFC), Harsh Kumar (Indian Institute of Technology Bombay, India [IIT/Bombay]), Shreya Anand (Caltech), Anna Y. Q. Ho (Department of Astronomy, University of California, Berkeley, USA [UCB]; Lawrence Berkeley National Laboratory, USA [LBNL]; Miller Institute for Basic Research in Science, USA), Mansi M. Kasliwal (Caltech), Antonio de Ugarte Postigo (Université Côte d'Azur, Observatoire de la Côte d'Azur, France), Ana Sagués-Carracedo (The Oskar Klein Centre, Stockholm University, Sweden [OKC]), Steve Schulze (OKC), D. Alexander Kann (Instituto de Astrofisica de Andalucia, Glorieta de la Astronomia, Spain [IAA-CSIC]), S. R. Kulkarni (Caltech), Jesper Sollerman (OKC), Nial Tanvir (Department of Physics and Astronomy, University of Leicester, UK), Armin Rest (Space Telescope Science Institute, Baltimore, USA [STScI]; Department of Physics and Astronomy, The Johns Hopkins University, USA), Luca Izzo (DARK, Niels Bohr Institute, University of Copenhagen, Denmark), Jean J. Somalwar (Caltech), David L. Kaplan (Center for Gravitation, Cosmology and Astrophysics, Department of Physics, University of Wisconsin–Milwaukee, USA), Tomás Ahumada (UMD), G. C. Anupama (Indian Institute of Astrophysics, Bangalore, India [IIA]), Katie Auchettl (School of Physics, University of Melbourne, Australia; ARC Centre of Excellence for All Sky Astrophysics in 3 Dimensions; Department of Astronomy and Astrophysics, University of California, Santa Cruz, USA), Sudhanshu Barway (IIA), Eric C. Bellm (DIRAC Institute, University of Washington, USA), Varun Bhalerao (IIT/Bombay), Joshua S. Bloom (LBNL; UCB), Michael Bremer (Institut de Radioastronomie Millimetrique, France [IRAM]), Mattia Bulla (OKC), Eric Burns (Department of Physics & Astronomy, Louisiana State University, USA), Sergio Campana (INAF-Osservatorio Astronomico di Brera, Italy), Poonam Chandra (National Centre for Radio Astrophysics, Tata Institute of Fundamental Research, Pune University, India), Panos Charalampopoulos (DTU Space, National Space Institute, Technical University of Denmark, Denmark [DTU]), Jeff Cooke (Australian Research Council Centre of Excellence for Gravitational Wave Discovery, Swinburne University of Technology, Hawthorn, Australia [OzGrav]; Centre for Astrophysics and Supercomputing, Swinburne University of Technology, Australia [CAS]), Valerio D'Elia (Space Science Data Center – Agenzia Spaziale Italiana, Italy), Kaustav Kashyap Das (Caltech), Dougal Dobie (OzGrav; CAS), Jose Feliciano Agüí Fernández (IAA-CSIC), James Freeburn (OzGrav; CAS), Cristoffer Fremling (Caltech), Suvi Gezari (STScI), Matthew Graham (Caltech), Erica Hammerstein (UMD), Viraj R. Karambelkar (Caltech), Charles D. Kilpatrick (Center for Interdisciplinary Exploration and Research in Astrophysics, Northwestern University, USA), Erik C. Kool (OKC), Melanie Krips (IRAM), Russ R. Laher (IPAC, California Institute of Technology, USA [IPAC]), Giorgos Leloudas (DTU), Andrew Levan (Department of Astrophysics, Radboud University, The Netherlands), Michael J. Lundquist (W. M. Keck Observatory, USA), Ashish A. Mahabal (Caltech; Center for Data Driven Discovery, California Institute of Technology, USA), Michael S. Medford (UCB; LBNL), M. Coleman Miller (JSI/UMD; UMD), Anais Möller (OzGrav; CAS), Kunal Mooley (Caltech), A. J. Nayana (Indian Institute of Astrophysics, India), Guy Nir (UCB), Peter T. H. Pang (Nikhef, The Netherlands; Institute for Gravitational and Subatomic Physics, Utrecht University, The Netherlands), Emmy Paraskeva (IAASARS, National Observatory of Athens, Greece; Department of Astrophysics, Astronomy & Mechanics, University of Athens, Greece; Nordic Optical Telescope, Spain; Department of Physics and Astronomy, Aarhus University, Denmark), Richard A. Perley (National Radio Astronomy Observatory, USA), Glen Petitpas (Center for Astrophysics | Harvard & Smithsonian, Cambridge, USA), Miika Pursiainen (DTU), Vikram Ravi (Caltech), Ryan Ridden-Harper (School of Physical and Chemical Sciences — Te Kura Matu, University of Canterbury, New Zealand), Reed Riddle (Caltech Optical Observatories, California Institute of Technology, USA), Mickael Rigault (Université de Lyon, France), Antonio C. Rodriguez (Caltech), Ben Rusholme (IPAC), Yashvi Sharma (Caltech), I. A. Smith (Institute for Astronomy, University of Hawaii, USA), Robert D. Stein (Caltech), Christina Thöne (Astronomical Institute of the Czech Academy of Sciences, Czech Republic), Aaron Tohuvavohu (Department of Astronomy and Astrophysics, University of Toronto, Canada), Frank Valdes (National Optical Astronomy Observatory, USA), Jan van Roestel (Caltech), Susanna D. Vergani (GEPI, Observatoire de Paris, PSL Research University, France; Institut d'Astrophysique de Paris, France), Qinan Wang (STScI), Jielai Zhang (OzGrav; CAS).
The European Southern Observatory (ESO) enables scientists worldwide to discover the secrets of the Universe for the benefit of all. We design, build and operate world-class observatories on the ground — which astronomers use to tackle exciting questions and spread the fascination of astronomy — and promote international collaboration in astronomy. Established as an intergovernmental organisation in 1962, today ESO is supported by 16 Member States (Austria, Belgium, the Czech Republic, Denmark, France, Finland, Germany, Ireland, Italy, the Netherlands, Poland, Portugal, Spain, Sweden, Switzerland and the United Kingdom), along with the host state of Chile and with Australia as a Strategic Partner. ESO's headquarters and its visitor centre and planetarium, the ESO Supernova, are located close to Munich in Germany, while the Chilean Atacama Desert, a marvellous place with unique conditions to observe the sky, hosts our telescopes. ESO operates three observing sites: La Silla, Paranal and Chajnantor. At Paranal, ESO operates the Very Large Telescope and its Very Large Telescope Interferometer, as well as survey telescopes such as VISTA. Also at Paranal ESO will host and operate the Cherenkov Telescope Array South, the world's largest and most sensitive gamma-ray observatory. Together with international partners, ESO operates APEX and ALMA on Chajnantor, two facilities that observe the skies in the millimetre and submillimetre range. At Cerro Armazones, near Paranal, we are building "the world's biggest eye on the sky" — ESO's Extremely Large Telescope. From our offices in Santiago, Chile we support our operations in the country and engage with Chilean partners and society.
——————–
Contacts
Igor Andreoni
Joint Space-Science Institute, University of Maryland, NASA Goddard Space Flight Center
Greenbelt, MD, USA
Tel: +1 (626) 487-7545
Email: andreoni@umd.edu
Daniel Perley
Astrophysics Research Institute, Liverpool John Moores University
Liverpool, UK
Tel: +44 (0)745 6339330
Email: d.a.perley@ljmu.ac.uk
Nial Tanvir
Department of Physics and Astronomy, University of Leicester
Leicester, UK
Email: nrt3@leicester.ac.uk
Giorgos Leloudas
DTU Space, National Space Institute, Technical University of Denmark
Lyngby, Denmark
Email: giorgos@space.dtu.dk
Juan Carlos Muñoz Mateos
ESO Media Officer
Garching bei München, Germany
Tel: +49 89 3200 6176
Email: press@eso.org
——————–
Pôvodný článok: https://www.eso.org/public/news/eso2216/
ESO*lar